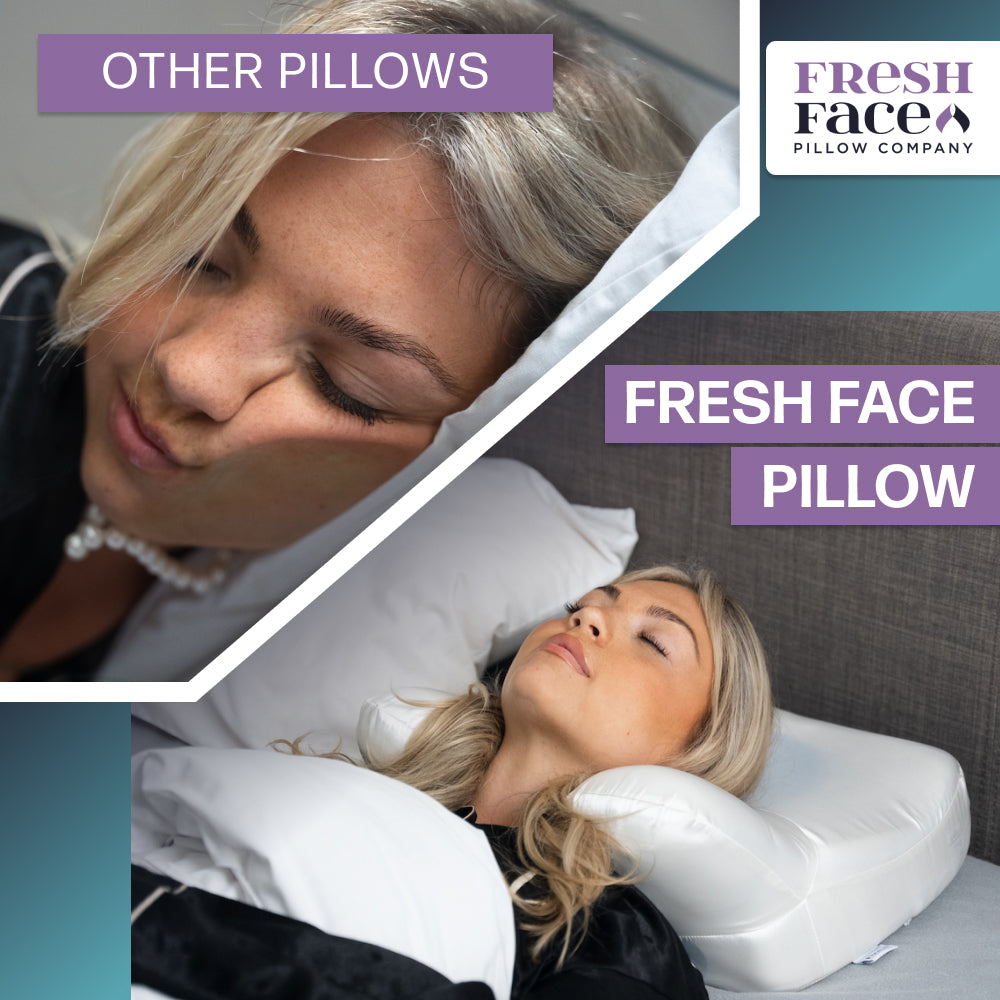 Imagine a life without wrinkles
The Fresh Face Pillow is designed to reduce wrinkles, dry skin and knotted hair.
See offers
Best known for its unmistakable design, the Fresh Face Pillow is engineered to reduce wrinkles, dry skin and knotted hair.
An ESSENTIAL Addition to Your Sleep Routine

✔️ Silk pillow case

✔️ Memory foam pillow

✔️ Neck support

✔️ In-built cooling gel
The Fresh Face Pillow is a game-changer if you're seeking to reduce wrinkles with a rejuvenated complexion.

.

With its memory foam material and silk pillowcase, it offers the perfect balance of comfort and support. The memory foam contours to your head and neck, alleviating pressure points, while the silk pillowcase prevents wrinkles and hair breakage. Investing in the Fresh Face Pillow will improve your sleep quality, leaving you feeling rested and refreshed.

Learn more
Easy to use

"Now part of my daily routine, was super easy to swap my old pillow for this."

- Lyn

Thanks so much Fresh Face!!

"I was feeling so down about starting to see wrinkles... and this has given me a new boost of confidence, THANK YOU."

- Polly

Obssessed!!

"Obssesed. obsessed. Don't overthink it... just try it. I honestly can't sleep without this anymore..."

- Kathy

Surprising benefits

"The cooling gel was the most helpful feature for me... My hot flushes in the night are no longer an issue. The anti-wrinkle is a bonus"

- Sarah

Saw results immediately.

"I honestly LOVE this. Saw results immediately. My sleep AND back have both improved and I'm so happy!!"

- Lizzie

Wow

"I didn't know something like this could exist. How can one pillow keep me cool, fix my neck ache AND be so comfortable?! Highly recommend."

- Barbara
Shop pillowcases
Regular price

From £29.95

Regular price

Sale price

From £29.95

Unit price

per

Regular price

From £29.95

Regular price

Sale price

From £29.95

Unit price

per
FAQ
Does it work?

In short… YES! Fresh Face Pillow went through an independent 8-week clinical trial that proved that using Fresh Face Pillow reduces lines and wrinkles by more than 13%.
What is the pillow made of?

The pillow is made from two memory foams. Inside the pillow is slightly more rigid to support the face, and the outer region is soft for comfort.
What is the pillowcase made from?

The pillowcases are 100% silk. Cotton pillowcases dry out your skin and hair by absorbing all the moisture throughout the night. This is both bad for your skin, as well as unhygienic.

Our silk pillowcases are a great alternative to compliment your skin and hair care routine.
Can you remove the pillowcase?

Of course! The pillowcases are 100% removable and washable.
Why does the pillow use cooling gel?

We all like finding the cold bit on the pillow, right? The cooling gel regulates the head's temperature throughout the night, making hot flushes and warm nights more bearable.
When will my pillow arrive?

Your pillow is shipped by Express delivery within 24 business hours. You'll receive a tracking code as soon as it has shipped.
What is your returns policy?

We're so confident you'll see results that we offer a 60-sleep moneyback guarantee. If you haven't seen any results since you started using the pillow, you can return the item for a full refund.

Please see our Refund Policy for more details.
About the founders...
"After opening two successful beauty salons, I became obsessed with helping my clients feel fresh, invigorated and young. I spent four years with Deo Beauty Products developing Fresh Face Pillow, and I'm so proud to see how it's changing people's lives."
- Tracey, Co-Founder